Hello EveryFinions,
We couldn't be more excited for space exploration. NASA's Perseverance Rover successfully landed on Mars this week. It has embarked on an epic journey to bring rocks back from the red planet that could help answer if life ever existed there. This is the third mission in just over a week to Mars; the previous two spacecrafts were sent by UAE and China – All of them taking advantage of the close alignment of Earth and Mars, traveling some 300 million miles in nearly seven months.
Here is an image the Rover sent right after landing.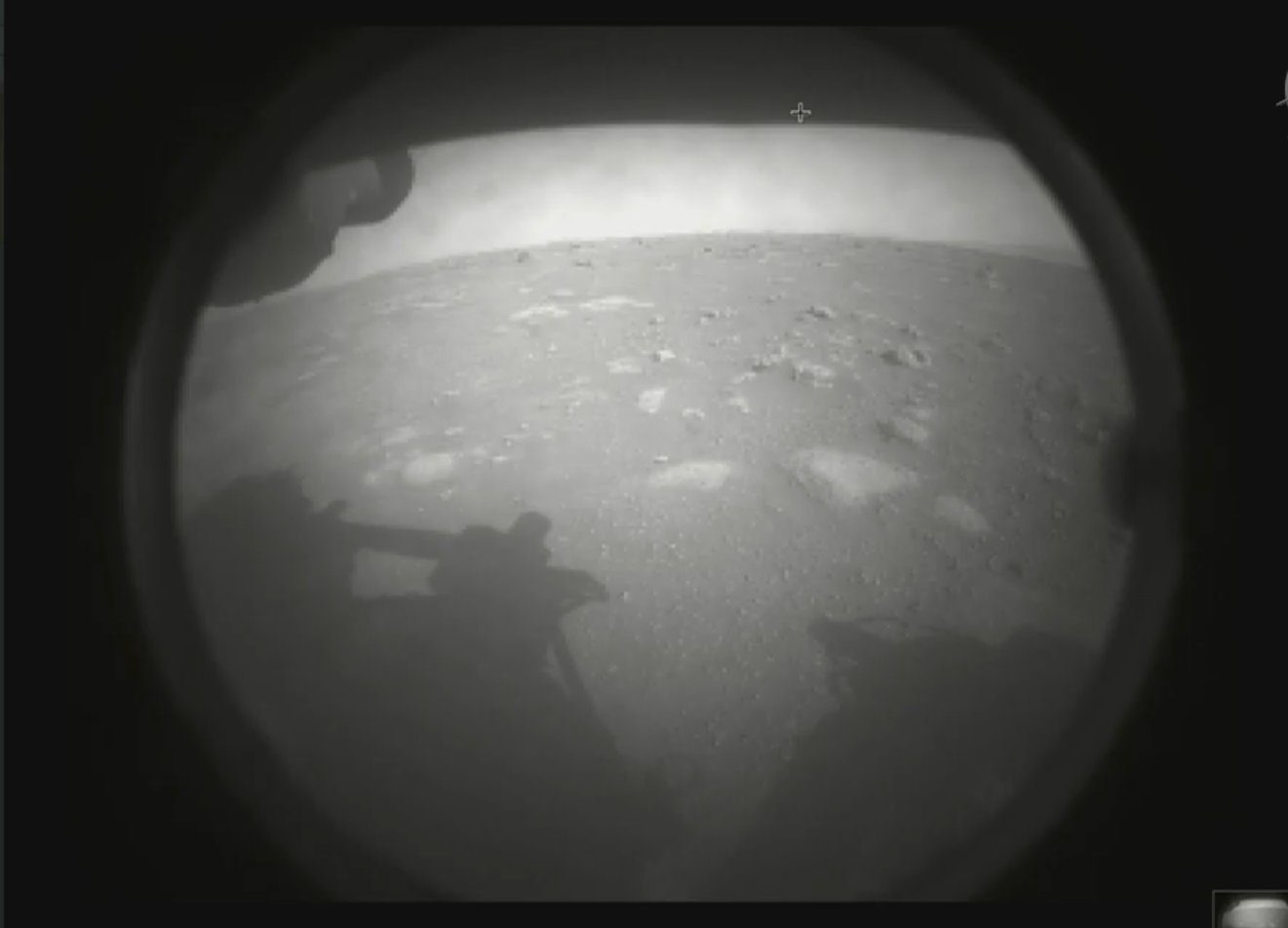 Looks a bit like my garden at this time of the year. Cold, dry and rocky 🙂
IN TODAY'S NEWSLETTER
News in brief

Q3 FY21 Results Update – Final

Short Cover -

Delicensing electricity distribution

Quiz, thought for the day, c

rypto news

In case you missed it : How much would you pay?
MARKET UPDATE (WEEK ON WEEK CHANGE)
Facebook this week banned people in Australia from sharing news content

following the Australian government's decision to force the social media giant to pay news media companies for any news content shared on the platform. Google has threatened to pull out of Australia if it is forced to do so as well. Meanwhile, Canada has lined up to say that it will do the same as Australia next.
Warren Buffett's Berkshire Hathaway released their portfolio holdings this week to the US SEC.

It sold its entire stake in Canada's largest gold miner Barrick gold

only a couple of quarters after buying stake in the company. Gold prices meanwhile fell to their lowest levels in 3 months. Warren, heard of Bitcoin yet?
IDFC first bank has been riding the bull – Its

stock has rallied by nearly 85% in the last 3 months and 16% just this past week.

The bank's board at its meeting held on Thursday this week noted "the significant opportunities for growth of the Bank based on the strong capabilities the Bank has built and has approved raising of funds for an amount of Rs 3,000 crore".

The RBI this week approved the proposal from the Piramal group to acquire the beleaguered lender DHFL. Piramal will bring in Rs.34,250 in cash to pay DHFL's lenders who have agreed to take a massive haircut on the outstanding principal amount of Rs.90,000 crores. DHFL last week announced Q3 FY21 results with a net loss of Rs.13,095 crores.

IPL auctions concluded this week in Chennai with Virat Kohli retaining his most expensive player title at Rs.17 Crores (retained by RCB). South-African all-rounder Chris Morris came in second as Rajasthan Royals coughed up Rs.16.25 Crores for him. Sachin's son Arjun Tendulkar got picked up by Mumbai Indians for his base price of Rs.20 Lakhs. Twitterati meanwhile went on a rant about #nepotism.

Dr.Fauci, director of the US national institute of allergy and infectious diseases said that things will not return to normal till Christmas 2021. Wait a minute, what?!!?!
IN LESS THAN FEW HUNDRED WORDS
Q3 FY21 Results Update – Final
Most companies in our watchlist have announced results for Q3 FY21 and we have been going over the numbers for so long that we dreamt of numbers. A bit like this from the Matrix movie.
But here is our take across some of the key industries that captured our interest.
PHARMA
Pharma companies, with the exception of just a handful, have clocked in excellent sales and profit growth. Suven pharma for instance finished Q3 with nearly 50% sales growth and 100% growth in profits. Improving sales in India and US aided by cost reduction initiatives drove profitability at Cadilla, Ajanta, Divi's lab, Gland pharma and Ipca labs who have all delivered over 10% profit growth on a year on year basis. Astra Zeneca's profits however declined by 21%! Who would have thought!
FMCG
Consumer goods businesses were also in the limelight for their good results. Emami's profits grew by 50%. P&G hygiene's profits grew by an even better 80% on a year on year basis. The company delivered double digit profit growth for the second quarter in a row. Their MD Madhusudan Gopalan called the market environment 'challenging'. Really, Madhu? It doesn't look like it.
LARGE CAP, ITES and HDFC
Most large cap companies were in the green (both sales and profit) with the exception of Bajaj finance, RIL, State bank of India, ITC & L&T. HDFC twins were in the green too. However, HDFC ltd's standalone profits tanked by nearly 50% on a year on year basis. Thanks to the merger/amalgamation of HDFC Ergo Insurance with HDFC ltd, consolidated profits showed an increase of nearly 40% from last year.
IT giants are chugging along at their own consistent speed. Infosys did better than TCS and HCL did much better than anybody else.
TRAVEL, TOURISM & HOTEL
Listed hotel chains continued to be in deep red. Of the 8 that are in our tracking list, 5 of them posted losses and the other 3 posted profits of 0.1 Crore (EIH Assoc. Hotels), 0.1 Crore (Westlife develop.) and 1 Crore (Taj GVK hotels). With the exception of IRCTC (78 crores in profit), all travel related businesses like Wonderla, Spicejet, Interglobe Aviation (600 crores in losses) also posted losses.
OVERALL
Overall, just a visual inspection of this chart above says the obvious. More companies are to the right than left (positive sales growth) and more companies are to the top than bottom (positive profit growth). And with that, the Indian growth story continues!
What is the name of the government body that regulates the insurance industry in India?
Delicensing electricity distribution
Power generation, transmission and distribution businesses in India have traditionally been facilitated by government owned enterprises since independence. Around 1991, while power distribution continued to be licensed to state entities, power generation was opened up to the private sector in order to encourage more competition and to meet the growing demands of the country. There was just one problem – the State Electricity Boards (SEBs) which distributed electricity to end consumers were in such poor financial health that they could hardly be expected to pay for power generated by private companies. This led to the recognition that fixing the financial health of these SEBs took priority. A number of measures were announced in support of fixing the DISCOMs' (distribution companies) books, but most of it never really delivered results. Why? Well, fixing DISCOMs' books actually would require state governments to increase tariffs to end consumers. Even me, with my little political astuteness, can tell you that this wasn't going to get any votes. But fairly soon, the state governments realised that they could not afford to play politics around power sector issues, quite simply because there is only so much the DISCOMs could afford to subsidise. Their books got stretched, they were unable to pay to buy electricity from generating companies leading to power cuts – which proved even more unpopular among the population base.
One of the proposals that has been on the table for a long time now is to allow the participation of private sector in electricity distribution and permit 'open-access' to the transmission and distribution system enabling customers to obtain electricity from any supplier. On Thursday, the Prime Minister announced that the government will enable just that. What did he really mean and how is that going to affect your electricity bill? Read Further.
Pricing is a whole branch of study in marketing. Take for instance a company like Hindustan Unilever Ltd. Say they are coming out with a new thin film product which makes your mirrors fingerprint safe. Instead of having to clean the mirror every now and then to get rid of fingerprints, this new thin film when applied to your mirror once will make it totally fingerprint proof. You will never have to clean your mirrors ever again. How much would you pay for it? How much should the company charge you for it?
How much would you pay? - New Fingerprint safe think film for mirrors (Let's call it FINGERSAFE)
There are multiple approaches to pricing consumer goods. The first one is the classic, standard, age-old, most popular technique called 'cost plus pricing'! As the name suggests, HUL would look into how much it costs to manufacture a single unit of Fingersafe (say Rs.10). They'd then add a % mark-up to it (say 30%) and determine the selling price (Rs.13). Of course, by the time it goes from HUL to the national distributor, down to the regional distributor and finally to the retailer, it might end up costing something like Rs.25. But you get the idea.
A second and relevant approach is to look at what the substitutes cost. Perhaps there is already an equivalent to Fingersafe in the market? And say it costs Rs.50. Then the pricing decision becomes one of should it be more or less than the competition? And by what exact %?
A third and more sophisticated approach is called 'value-based pricing'. In this method, the folks at the marketing team try and figure out the true 'value' of a product like Fingersafe is to its customers. How do you figure that out? Well, think about it this way. Without Fingersafe, you'd have to buy some sort of mirror-cleaning solution at least once a year? Let's say it costs Rs.5. And if the average lifetime of a mirror is 20 years, then over that time you'd have to spend Rs.100 (20 years * Rs.5/year) just to buy the cleaning solution. Add on to this, the cost of the time involved in cleaning the mirror every few months or so – that must be worth something too. They'll do the math & perhaps decide that the actual value to the customers is Rs.150 and that's what they will charge.
Did notice the huge range of pricing values (Rs.13 for cost plus, Rs.50 for substitutes-based and Rs.150 for value based)? Rs.150 is the maximum that you will probably be willing to pay and they will want all of it.
Now, how much would you pay for a 4-bedroom house in the centre of New Delhi? Or for a 40-seater Mexican restaurant? Hit the link to find out how to price them out.
A new Bitcoin ETF launched in Toronto's stock exchange this week was a huge hit. The ETF will allow retail investors to

gain access to Bitcoin price movement without actually owning it.

Ethereum hit its lifetime high this week and reached $1,935.

Dogecoin lost over 60%

in value this week after Elon Musk tweeted that there is too much concentration in the ownership of the coin.
IRDAI
The insurance regulatory & development authority of India is the statutory body which supervises and supports the overall development of the insurance industry in India. It also protects the interest of and secures fair treatment for policyholders in the country.
What are you investing on?
A massive exodus of rich Indians is currently underway as they go searching for security and freedom to travel that comes with citizenship in an advanced economy. Nikkei

Does free will exist? Mathematicians and philosophers all alike have pondered on this question. Here is a take by John Horgan. Scientific American
From the writer in me, to the reader in you ♥
Follow us on instagram here
© EveryFin.in, 2020, All rights reserved. You are receiving this e-mail because you subscribed to the weekly Sunday newsletter at everyfin.in. To unsubscribe, click here
Disclaimer : All content published on this newsletter or on any other post on everyfin.in are meant to be for information & education purposes only. It is not intended to be investment advice or a solicitation to buy or sell securities. Please do your own due diligence or consult with your financial advisor before making any investment decision. While the information published on everyfin.in and the newsletters are obtained from reliable sources, neither the author, the publisher nor any of their affiliates guarantee the accuracy or completeness of any such information.