Hello EveryFinions!
Deploying the right mental model is key to succeeding in equity investing. One of my favourite mental models is called "Inversion". It is the process of "thinking backwards" to find new answers to old questions. Rather than asking, "In which stocks should I invest my money?", try asking, "In which stocks should I NOT invest my money?". Suddenly you'll have your own framework for equity investments.
Another way we are 'inverting' our problem at EveryFin is like this - Rather than asking, "How can we get our newsletters to more people?", we are asking, "How can more people get our newsletters?". And the answer to that, is through you guys! So please, forward this on to your friends and family.
IN TODAY'S EDITION
Q2FY21 results update

Upcoming results calendar

Corporate announcements this week

Trend watching - Size matters, even in AMCs

Trend watching - The race to the bottom on listing regulations

That's what they said - Soundbites

Stock story - Finance & Warfare - BEL India
RESULTS UPDATE
We have been looking at the Q2 FY21 financial results and comparing it with how companies performed in the same quarter a year ago.
How to read this graph?
Horizontal axis represents sales growth year on year in %

Vertical axis represents profits growth year on year in %.

The center point at the graph where the 4 different quadrants meet is origin (0%, 0%). By virtue of it, Quadrant A (top right) represents positive sales growth & positive profits growth. Quadrant C represents negative sales growth & negative profits growth and so on.

The size of the bubble represents market cap. Bigger the bubble, bigger the firm.

The different colours represent different industries.
52 companies are in our coverage list as of now. Some of them are off the chart, so you won't see them all.
UPCOMING RESULTS CALENDAR
KEY CORPORATE ANNOUNCEMENTS
HDFC Life Insurance Company released a note titled 'The impact of COVID-19 on the business' to the stock exchange this week. The

insurance industry de-grew by 11% in H1 FY2021

compared to last year. But HDFC Life recorded 2% growth Y-o-Y during the same period. This is after they clocked 35% growth last year. Clearly, "All izzz well" at HDFC Life.
HDFC bank announced the appointment of Mr.Sashidar Jagdishan as the CEO of the bank. Sashi has been with the bank for 25 years and has most recently served as the CFO since 2008.

L&T is close to winning a Rs.25,000 crores bid

to construct the largest segment of the Mumbai-Ahmedabad bullet train project.
TREND WATCHING (1/2)
Size Matters - Even in Asset Management Companies
On one end, central banks across the world have been pumping in billions of dollars in liquidity into the financial system. And on the other end, they have also been reducing interest rates to record lows. This double whammy has resulted in a significant decline in risk premium across asset classes. Deutsche Bank's financial historian Jim Reid joined hands with Bloomberg and published this chart showing Italian 10-year yield since 1310. That is a full 710 years. And what did he find?
Italian yields have reached a 710-year low! Yields like this were never seen in over half a millennium. And this is in spite of the fact that the

Italian debt-GDP ratio has reached levels not seen in the last 150 years

.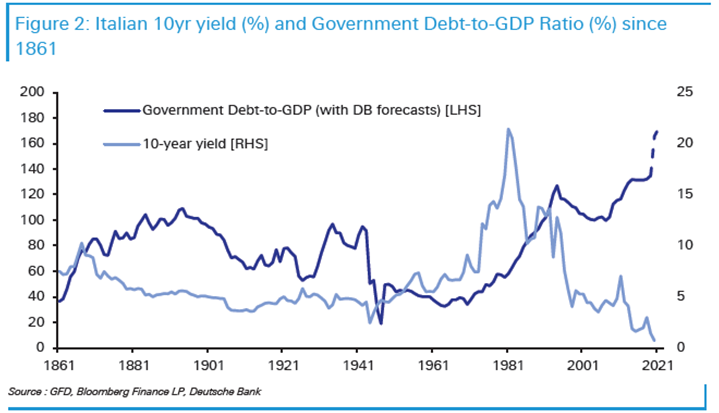 At home in India, credit spread on corporate bonds have gone down by 50 basis points over the last 1 year over government bonds across most maturities. This is all astounding. We need to ask ourselves this – Why are we lending our hard-earned money at such low interest rates to governments who have such a massive pile of debt and corporates who are in the middle of one of the worst economic slow-downs?
In all of this gloom, there is at least one group of people who are benefiting from this – The asset management companies or AMCs. Blacrock announced last week that its AUM grew by 12%. That is great on a normal day. That is friggin awesome in the middle of COVID. Fidelity investments made an announcement last week that they are recruiting 4000 new staff in customer facing roles. That is a big deal on a regular day. That is a super-duper-mega deal in the middle of COVID. In India, Blackstone came out to say that they are looking to buy L&T's mutual fund arm.
Mutual funds, brokerages and AMCs are thriving in this environment because of record account openings and equity trading activity. Truth is, institutional & retail investors are desperately looking for investment avenues to beat low interest rates. AMCs offer hope.
But in the AMC space, scale is key to success. UTI AMC's stock listed at a 10% discount to its IPO price earlier this month. This lack of enthusiasm from the investor community for a small AMC resonates with what is happening in the rest of the world – The biggest players thrive while the mid-tier companies struggle to gain clients and make money. Right now, we only have 3 listed AMCs in India – HDFC AMC, UTI AMC and Nippon Life India. HDFC is the biggest of them all. But more AMCs will come forward to list in the stock market. When they do, I hope you'll remember this – to succeed as an AMC, size matters.
TREND WATCHING (2/2)
The race to the bottom - Listing regulations
It's ok if you have missed it. But a whole lot of American entrepreneurs and investors have made a fortunate over the last few months through what is being referred to as a "blank check company".
What is a blank check company?
Think of it this way – I have a box which I want to sell to you. It is empty now. But if you pay me money in advance, I will find a gift worth your money and place it inside the box so you can keep it. Would you risk that bet? Investors in the US are.
Also known by its more formal name, Special Purpose Acquisition Company (SPAC), a blank check company is a company with no commercial operations which is formed in order to raise money through an IPO in the market. Once they have raised the money they need, they go out and buy a private enterprise. The SPAC stops existing from that point on and the acquired company becomes the listed entity. It all sounds dodgy and it probably is. But it has made at least one 28-year old American a billionaire without even selling a dime's worth. Thomas Healy's EV start-up called Hyliion holdings corp, which is yet to sell even a single unit got acquired by a SPAC last week. Tom's shares are worth over $1.4 Bn now. The SPAC craze started earlier this year when another EV company called Nikola got acquired into a SPAC. Unsurprisingly, Nikola too has not sold a single vehicle yet. And that set a precedence. The graph below shows how much money SPACs have raised this year through IPOs compared to the years before. Softbank's Masayoshi Son wants to do one next.
But there is an undercurrent here - It is a war for capital out there. Every country is doing its best it can to help its businesses raise money. IPOs and stock listing norms are being relaxed like never before.
At home in India, the government decided last week to allow companies to list overseas without the additional burden of having to dual list in India. 7 countries have been notified.
India requires those looking to do an IPO to be profitable for a period of at least 3 years. But companies like Flipkart haven't turned a single profitable year yet. And this deregulation opens up possibilities for a lot of start-ups, like Flipkart, to list their stocks in other countries and raise capital. Apart from the start-ups, behemoths like LIC and Reliance Jio are looking to raise large sums of money at steep valuations that would just not be possible in India. It looks like the regulators are in a race to the bottom. But what is the prize?
THAT'S WHAT THEY SAID
Soundbites from last week
"I have not closed the option for another stimulus … Every time we have announced one, it has been after a lot of consideration… I have not closed the option to come up with one more stimulus" - Finance minister Nirmala Sitharaman during a book launch ceremony last week.
"India is in the right mindset to completely, in the next few decades, move away from fossil fuels to renewable energy. Be Atmanirbhar" - Mukesh Ambani at a totally different book launch event.

"We will remove the constraints that the current structure of the transaction poses for investors" 

- Disinvestment secretary Tuhin Kanta Pandey trying his best to lure investors to buy Air India.

"Succession from me is not necessarily to my son" 

- Uday Kotak, Exec. Vice Chairman and MD of Kotak Mahindra bank in an interview this week. His two boys are not happy.
STOCK STORY
Finance and Warfare - Bharat Electronics Limited (BEL)
To be able to understand what a company like Bharat Electronics Ltd. (BEL) does, we need to understand how wars are fought. Modern day warfare is almost entirely different from how some of the most destructive wars like WW2 were fought. Traditional warfare is considered to be platform-centric while modern day warfare is considered to be network-centric. The key difference between the two is the role technology plays in the linkage between decision-makers, sensors and shooters. Information about the current status of war used to get relayed to the command centre thousands of miles away from the battlefield remarkably slowly. This drawback of the platform-centric warfare caused what is known as "fog of war" for key decision makers as situational awareness considerably deteriorated when the battle was underway.
But in the 90s communication technology significantly improved and a new method called network-centric warfare came about in the US. The Indian army is rapidly adopting this now. Today, an entire group of people working for the Indian army called Signals corps handle military communications. What do they do? They work to achieve information superiority over the enemy so that the forces can function effectively. Within 45 minutes, they can set up an entire private communication network at any location in order to facilitate information transfer between the radars, sensors, shooters and command centre. There's more! They can interject and jam the enemy's communication network. The electronic warfare unit of the Signals corps can also use this network to generate killer microwaves at specific frequencies to disable electronics on the enemy's electronic weapons & monitoring devices – like drones! And the best part of it all - None of this is science fiction!
More and more technology, software and electronic systems are being deployed in modern day wars. And Bharat Electronics Ltd., is at the forefront of developing and manufacturing such systems for the Indian armed forces and friends of India. They work together with the Defence research and development organisation (DRDO) and the others in this field like Hindustan Aeronautics Ltd. (HAL), to develop state of the art weaponry. Over 82% of their revenue came from the ministry of defence in FY2020.
But thanks to their expertise in electronics, they are called in to help with some other stuff too like helping out ISRO with their space gadgets, smart cities with their command & control centres, the police service to modernise their kit, metro train operators with automatic payment tills, election commission with the voting machines and best of all, by ministry of health to make ventilators! All of this put together however was only 18% of their revenue in the last FY.
What is their total addressable market size? Is it going to grow?
Warfare is expensive. Consider this for a moment – A staggering sum of Rs.4.7 Lakhs Crore (About $63B) was allocated to the ministry of defence in the FY21 budget. To put that into perspective, the ministry of housing and urban poverty alleviation received LESS than 10% of that amount. This infographic below shows you a back-of-the-envelop calculation on how big this business is today in 2020 and how big it can really be in 10 years from now.
Now that we know what they do, how well do they do it?
Turns out, they do it quite well! BEL has consistently ranked as one of the top 100 defence companies worldwide. The only other defence company from India which finds mention in this list is Hindustan Aeronautics Ltd. (HAL).
We couldn't get the ministry of defence to review their performance, but BEL's financial performance is available for us to analyse. Here is how their revenue and net profits grew over the last 10 years.
They have ZERO debt in their books, and they have consistently paid dividends. Look at their dividend yield over the last 10 years. (Dividend yield=Dividend paid per share/share price)
The issue with most PSUs is that they are generally less well-run, and less efficient compared to the private sector. So, I calculated a few efficiency indicators from their financial statements for FY20 and compared it with Escorts Ltd., the business we looked at last week.
All of the efficiency metrics are indicating that BEL is an extremely well-run business in today's context. But why does the stock sell at a much lower PE in the stock market compared to the others? What are we missing?
Before we answer that, let's answer another question. Who owns BEL?
BEL is one of the 14 Navratna public sector enterprises and is a public sector undertaking (PSU). The government of India owns 51% of the business while mutual funds and retail investors hold the rest of the 49%. But it wasn't always like this. Only 10 years ago, the government owned a meaty 76% of the company while the public owned the rest. Over the years since then, the government kept selling stocks in the company to outside investors to raise money. Now, why would the government dump stocks of a business that is both strategically important and quite profitable?
Why would they kill the goose that lays golden eggs?
The answer to that question lies in this chart below.
Each year the ministry of defence signs a number of contracts for delivery of weapons over the next years. When the deliveries are made, payments become due. These are called committed liabilities. Any other contracts they sign for weapons delivery are called new schemes. The finance ministry over the last 4 years has not even allocated enough money to meet the committed liabilities of the defence ministry. The standing committee of Defence in 2019 wrote in their report that there is a very real risk that the ministry might end up defaulting on their payment obligations to the vendors.
The finance ministry is like a parent to a number of children (ministries). It has only finite amount of money and all the children want more than what they can have.
But the defence ministry has already committed to its suppliers to buy these weapons. When it is time to pay, what could the defence ministry do without actually defaulting on its payment? – Really simple, ask the vendors to come back after some time. And that's what has been happening.
In the case of BEL, receivables from the ministry went up from Rs.3800 crores in 2015 to Rs.11,000 crores in 2020! An increase of 190% in a period when revenues only went up 80%. Is it just with BEL? Nope! Take the case of HAL – Receivables from the government went up from Rs.5,000 crores in March 2016 to an astonishing Rs.19,000 crores in March 2020. But the government anyway owns these companies. The left pocket owes money to the right pocket. What is the big deal with it? – That argument is only partially true. Mutual funds, LIC and the public own 49% of BEL and 10% of HAL. In effect, the money that would otherwise have been distributed to the shareholders as dividends is now being used to extend credit.
Here is my reading of the situation
The government is hitting the exit button on these defence stocks to raise the cash it desperately needs (Mazagon dock, another defence company went out public earlier this month). The downside of this is that any dividend paid in the future by these companies has to be shared with the new minority shareholders. But the government needs this dividend from its best performing PSUs. So how does it come around it? By extending massive amounts of credit to itself from these PSUs! In a round about way, shareholders in these companies are funding a portion of the excess spending of the ministry of defence.
And people claim the government has no idea what it is doing!
Should you buy this stock?
Now to the most important question – should you buy this stock. That is for you to answer. But here is something to take into consideration before you make a decision.
The defence industry in India is going to do quite well over the next decade. Make-in-India push is going to positively influence the development of this industry. There is no denying that. Save for some small corruption cases here & there and the RTI activists giving it a hard time now & again, BEL is a well-managed business at the leading edge of its industry. It is efficient, profitable and keeps innovating through R&D & industry partnerships. It is a good business to own, on any day. For someone looking to build a portfolio of value stocks, with stable names that offer reasonable dividends, capital protection and may be even some upside from growth, this could be considered a good addition at current prices. Remember, that's only if you are looking to hold on to it for the long term.
But for someone who is twitchy about the idea of indirectly funding the government of India or is looking to build a portfolio of the next FANG (Facebook/Amazon/Netflix/Google) stocks of India, or perhaps even against weapon manufacturing, look elsewhere. There are other opportunities.
Disclaimer - I do not hold any position in BEL's stocks. This is not a buy or sell recommendation for the stock. It is merely intended to be an educational column. Please consult with your financial advisor before investing.
From the writer in me, to the reader in you ♥
Follow us on instagram here
Click here to send us a thumbs up on Whatsapp
© EveryFin.in, 2020, All rights reserved. You are receiving this e-mail because you subscribed to the weekly Sunday newsletter at everyfin.in. To unsubscribe, click here
Disclaimer : All content published on this newsletter or on any other post on everyfin.in are meant to be for information & education purposes only. It is not intended to be investment advice or a solicitation to buy or sell securities. Please do your own due diligence or consult with your financial advisor before making any investment decision. While the information published on everyfin.in and the newsletters are obtained from reliable sources, neither the author, the publisher nor any of their affiliates guarantee the accuracy or completeness of any such information.